RomCenter 4.0.0.beta8
Download here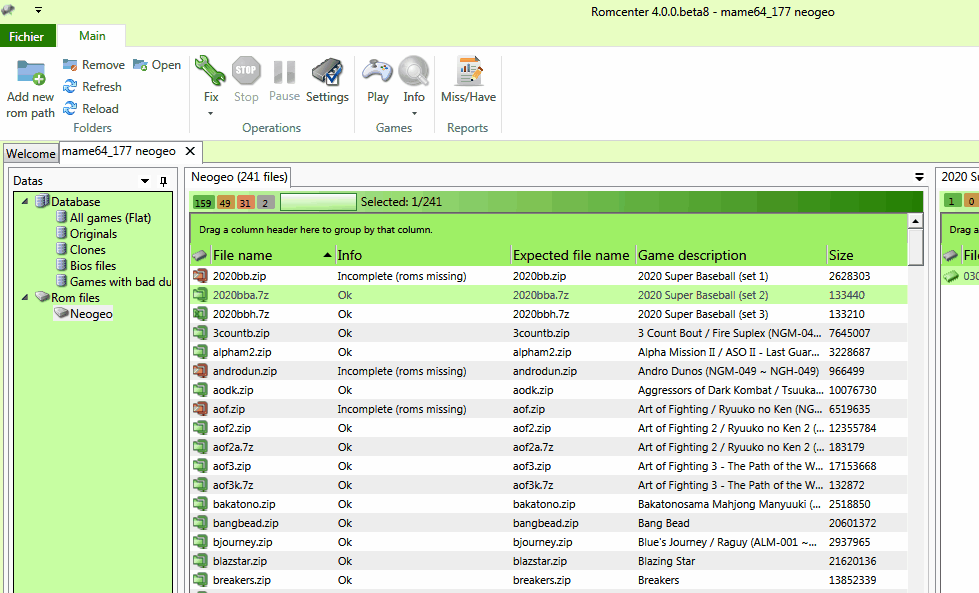 While this version is stable, this is still a beta version. Be carefull with your files.
You can report bugs or feature requests in the
forum
or directly in the new
issue tracker
.
Feel free to visit me in the forum and ask questions.
RomCenter 4.0.0.beta 8
Add Play game feature
Add hints on why a game won't start.
Add raine dat import
Add dat import from mame 0.70 to 0.161
Upgrade database engine
Dat import optimization
Add import of not-corrupted rom in corrupted file
Display template db version at startup
Fix AES bios roms wrongly merged with neogeo bios.
Fix troubles with games with 2 chd (2spicy)
Fix dat import when gameyear is too long (FB Alpha)
Fix crash when removing empty folders in 7z
Fix loosing view focus when clicking ribbon buttons
Fix memory leak when closing databases
Fix moving chd to folders
Fix rom unreferenced when detected as corrupted
Fix files in error not testable
Fix null reference when getting selection
Fix neogeo filter when importing from mame
Note: the romcenter log file location is displayed in the log window at startup.
Have a look at the
quick start tutorial video
on how to start fixing roms with romcenter.

THIS IS A BETA VERSION. BACKUP YOUR ROMS.
Enjoy